Blog
Alfa Work Experience: A Programme Delivered by the Alfa for Racial Equity Community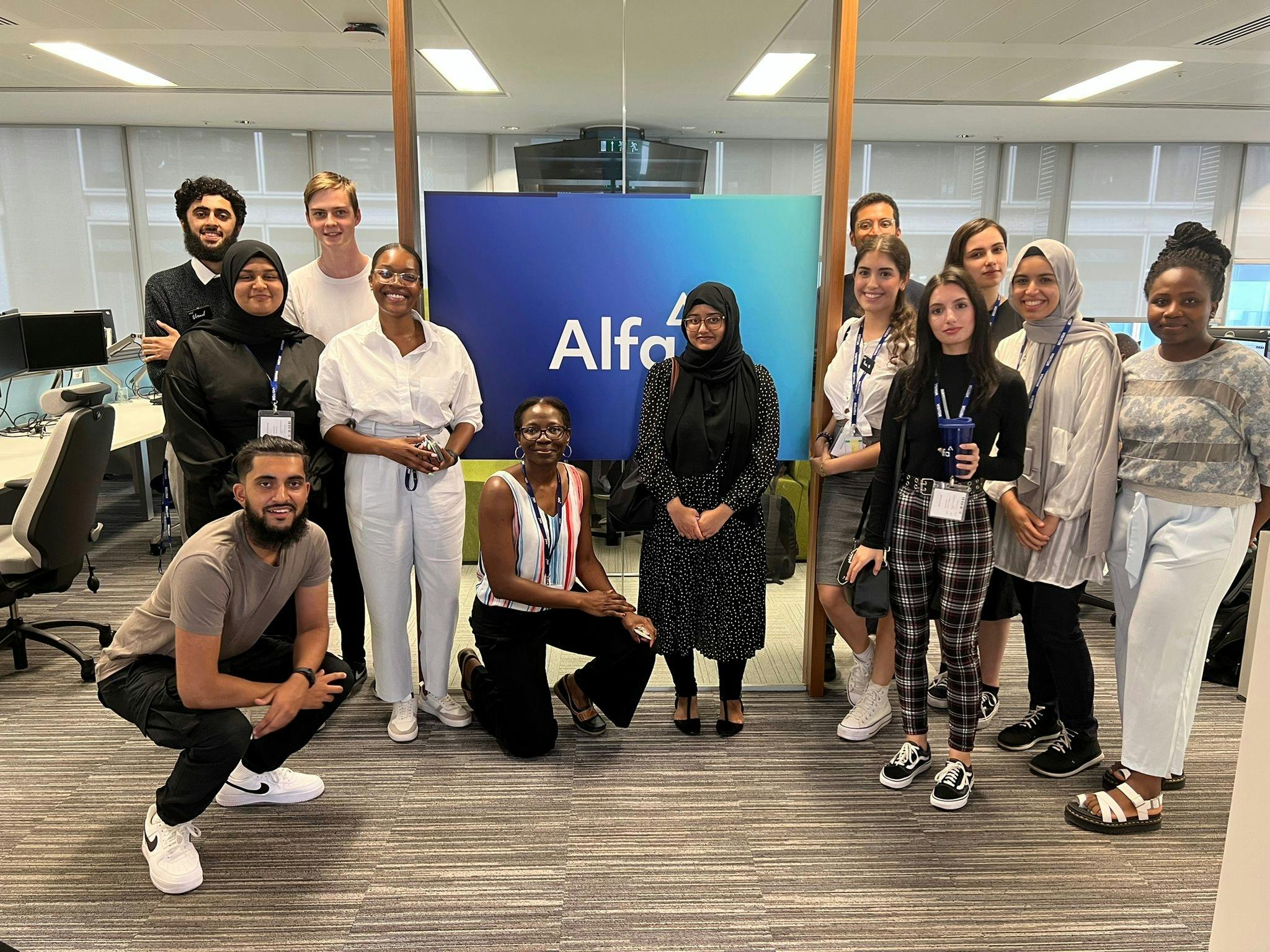 Part of the reason the Alfa for Racial Equity (AFREC) community exists is to foster an environment conducive to racial diversity at Alfa through recruitment, by engaging externally with racial minority communities. We recognise that progress in this area requires action early in a student's career, and that there is so much to be gained by students who get early industry exposure and experience.
We've known for some time that a work experience programme would be critical in furthering this cause, and so when the Alfa 2021 EMEA Hackathon came around, several Alfa colleagues thought it was a great opportunity to explore creating one. The idea went on to win the "Most likely to make a difference" award at the Hackathon.
Boosted by company-wide support, they got to work and assembled an Alfa Work Experience (AWE) committee, increasing the team with two more colleagues. They pulled in help from almost every Alfa function to create what would eventually become a comprehensive, four-day consultancy work experience programme.
With much determination and effort, this idea became a reality in less than a year. We ran our first AWE programme from 1st-4th August 2022, giving nine students an opportunity to learn about our industry, work on real Alfa issues and, with expert guidance and support, come up with viable solutions. 
How did we recruit students?
We sought out opportunities with various partners and found that an existing partner - upReach, a social mobility charity who are passionate about helping diverse students from across the UK realise their potential - represented the best choice to kick-start AWE.
What did AWE give the students?
1. Opportunity
As alluded to above, for some students, participating in a work experience programme run by a best-in-class software company is invaluable.
More students from socioeconomically disadvantaged backgrounds attend university than ever before, but this does not always translate to increased income, or enrolment in competitive graduate programmes at leading firms. This is the most significant driver of inequality in society. 
2. Skills
Students were tasked with coming up with solutions to existing pain points experienced by Alfa users, thereby fostering relevant skills that employers look for, such as client interaction, presentation, communication and teamwork. They also met and spoke with Alfa employees to gain an insight into what a career in software consulting might look like, and build up the confidence to explore this as a career option.
Impact and feedback
Our first AWE programme run was a huge success. We've seen so many positives as a direct result of the programme, including graduate applications from upReach students, positive social media reviews from the students and their peers, and follow-up events such as insight days for Cambridge Brown Girls society.
According to the 2022 impact report from upReach:
100% of the students who participated in AWE rated it "Very good" or "Excellent" and said they would recommend the programme to others.
95% said they are more likely to apply for roles in the sector and at Alfa.
The personal feedback from students is also evidence that we are doing the right things and taking the right actions:
 "I'm just messaging to say that I've finished my work experience week with Alfa and it honestly couldn't have been any better than it was! It has definitely clarified what career path I'd like to take and I'm very glad that I had this opportunity."
"The amount of sessions with Alfa employees from various divisions of the company were very helpful in providing a very insightful experience and it ensured that the placement was consistently interesting and engaging. Moreover, it allowed me to learn about and understand each role in depth, which gave me a much clearer understanding about what I'd like my career path to be. I really appreciated the opportunity to develop my presentation skills (a skill which I haven't had many chances to develop beforehand), increase my commercial awareness, build a wider professional network and, most importantly, build my confidence in a professional environment! It definitely clarified what career path I'd like to take and I'm very glad that I had this opportunity!"
"The week allowed me to gain insight into Alfa and the consulting sector. As well as providing me with the chance to network with other employees at the company. The HR insights session and the grad session were particularly useful. It was beneficial learning about how the application process at Alfa works and some top tips for applying for roles."
What next?
Since we laid the foundation, the AWE programme has already been run successfully for a second time in August 2022, independently of the original committee.
AFREC has now set its sights on long-term internship opportunities. We're super excited for the future of both initiatives.